How does one fold a crane the size of ones fingernail?
The tiny origami of Mui-Ling Teh
Of her work, she wrote:
I began folding my series of miniature models around the beginning of April 2008. One day I took a random strip of paper and cut a square to fold a crane out of it. I was daydreaming so I wasn't paying attention to how small the paper was. After completing the crane I realized it was rather tiny. This is the crane I present in my piece called Born from the Hand. I only used tweezers for the last few folds. The paper size must have been about 15×15mm. After I folded that crane I decided to try folding an even smaller crane, which I present in Born from Fingers and Born from the Pinky. I also began folding various other models in miniature form. As the pieces were gettting smaller or more complex. I needed to rely on tweezers more often. The smallest work I've created to date was Born from the Cell which was folded from a 3×3mm piece of trace paper. However when it gets that small it becomes very difficult to take a photo of; especially with a simple point and shoot camera. Normally I fold something at a size that can be photographed for a particular concept while still being impressively small.
Artist profile:
Mui-Ling Teh -
RedBubble
The origami of Mui-Ling Teh -
The true story in her own words
---
Knitted Tiny Stuff
Are they Marzipan?
Or are they clay babies?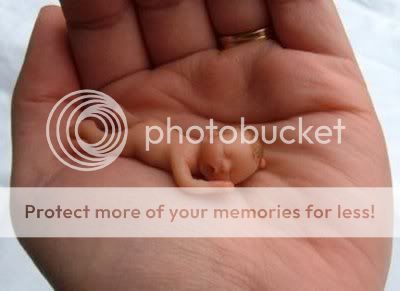 I recently came across a story featuring these tiny precious creations and the story attached said they were made from marzipan. I investigated and seems to me they are more like the tiny baby sculptures done by the artist Camille Allen.
I'm not sure if these are Camille Allens babies as she has not emailed me back yet, but they are still detailed and amazing none the less.
You can see more of her work here:
http://www.camilleallen.com/
---
The World's Smallest Postal Service
The World's Smallest Postal Service was created by San-Francisco-based postmistress
Lea Redmond
, who decided to put the crazy idea into practice as soon as it popped into her head. She just strapped her small desk to her back, hopped on her bicycle and set-up shop in one of the local cafes. Since then she's come to realize many other people are simply charmed by her miniature postal service.
At the World's Smallest Postal Service, your letters are written in tiny letters, carefully wrapped and sealed with a miniature was-stamp bearing the sender's initial. To make sure the tiny messages don't get lost in the traditional mail, they are packed in transparent envelopes equipped with a magnifying glass for identifying the mailing address.
For Valentine's Day the mailing rates at the World's Smallest Postal Service are: $8 plus shipping for letters, and $10 plus shipping for small packages containing an antique china button and a note saying " You are as cute as a…"
---
Mini Figurine Art Imitating Real Life Moments
These beautiful images by Vincent Bousserez of mini figurines shown as art imitating life like moments, which are absolutely amazing and awe inspiring. The creativity and great photography imagination are easily illustrated. There are many mini figurines placed in various poses that imitate life scenes and moments we all could relate to or seen in real life, magazine images or even in some movie scenes.
Check out the
entire gallery from Vincent Bousserez
.
---
Tiny detailed dollhouse pieces