This story has made some big news this week, here it is if you havent heard:
Russian doctors confirm picture of mugging victim with a six-inch knife in her back is genuine.
Something's not right here: Surgeons stare in awe at Julia Popova, 22, who has a six-inch kitchen knife protruding from her back that she did not know was there.
Apart from the gore, what makes the image so remarkable is that apparently she had no idea it was there.

Julia Popova, 22, was allegedly stabbed by a mugger on her way home from work in Moscow, a Russian newspaper reported.

The office worker battled with her assailant when he snatched her purse in the Russian capital.

But she was so shocked by the traumatic attack that she failed to notice the thug had plunged a kitchen knife in to her neck.
The blade was apparently just fractions of an inch from her spinal cord - but she did not notice until she arrive home and met the horrified stares of her parents.

They rushed her to hospital, where surgeons managed to remove the knife safely.

'Shock had kicked in and prevented her body from feeling any pain,' one medic told Russian newspapers.

'She simply walked home without feeling the knife in her back.'
Surgeons find six inch blade embedded in mugging victim's bum.
News from last September.
SURGEONS have finally got to the bottom of shooting pains a mugging victim felt in her backside — more than four months after she was robbed.
This astonishing X-ray shows the thugs left Ying Shi, 26, with a razor sharp six inch blade completely buried in her buttocks.
Ying said: "All I remember of the night was a stabbing pain in my backside. I thought they had just slashed me, I didn't realise the whole blade had gone all the way in."
Doctors in Shanghai, eastern China, were baffled by her complaints of stomach pains — until they sent her for X-rays and found the blade pressing into her bladder.
Ying added: "I am amazed they missed it the first time around but very relieved that they've found it now."
---
Some other crazy pictures of foreign objects in human bodies.
375mL effervescent drink bottle
78 spoons and forks swallowed by a Dutch woman
This x-ray shows the stomach of an Israeli woman who swallowed a fork while trying to catch a bee that flew into her mouth.
A dental office X-ray reveals a four-inch nail in mans skull
A schoolboy archer in China had an narrow escape after being shot with an arrow through the eye by a classmate.
An x-ray of 17-month old Nicholas Holderman, who fell on a set of car keys. Miraculously, he recovered completely within 2 months of the accident.
X-ray of batteries in woman's stomach.
The x-ray of Ron Hunt's skull shows an 18-inch-long drill bit that pierced Hunt's eye socket and went through his head, just nudging his brain.
What a headache: Man survives nail in skull: George Chandler's nail gun accident skull x-ray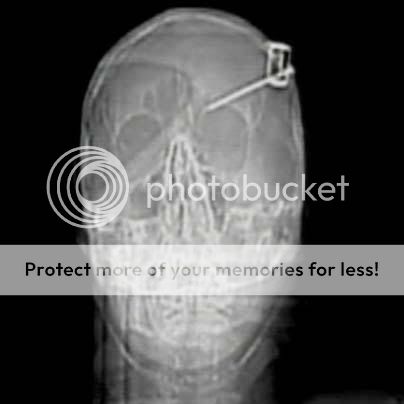 Man falls from roof on to nail gun that went off
X-ray showing multiple nails embedded of the skull of 27-year-old Chen Liu
Man swallows scissors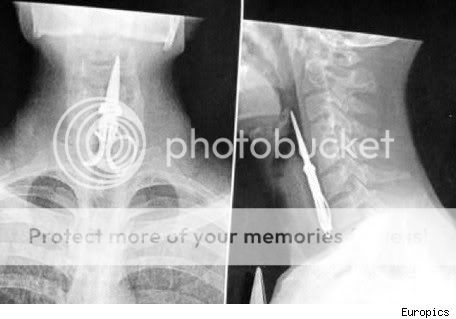 Medical Malpractice
What happens if you swallow a coin
A paperclip
This X-ray image show a teenage boy with a 5-inch knife was plunged into his head. He received the wound when trying to stop a friend from being robbed at the bus stop and was lucky to survive.
This poor guy was shot in the face at close range, but his nose stopped the bullet, saving his life.
How many foreign objects can you identify?