The Vertu Boucheron 150 is made from "solid gold" and is meant to celebrate the 150th anniversary of the Boucheron jewelry house in Paris. According to the designer, it took 1,000 hours to cut into shape, 700 hours to hand polish, and more than 500 hours to build.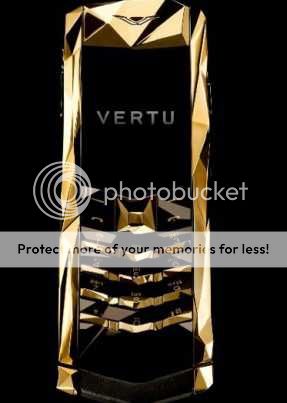 Wait wait, you thought $30,000 was expensive? What about the Goldvish "Le million" = $1,000,000
A PR stunt it may be, and they surely can't be expecting to sell any, but the Goldvish "Le million" is officially the most expensive mobile phone in the world, according the Guiness Books of Records. There's even been talk of a $1.3million phone, but this has fewer diamonds than the Goldvish so I can't see where the extra expense comes from! The "Le million" is a one off, featuring a blinding 120 carats worth of VVS-1 grade diamonds, according to designer Emmanuel Gueit. If $1 million is out of your price range. the Geneva-based Goldvish also offer several other diamond-encrusted 18k gold models in your choice of rose, yellow, or white, starting at a much more reasonable $25,600
1 million not enough to spend on a cell phone?
The Diamond Crypto Smartphone for only $1.3 million
One candidate for world's most expensive cell phone is the Diamond Crypto Smartphone, created by luxury accessory producer Peter Aloisson of Moscow-based JSC Ancort. Its price stems from the platinum body, the cover adorned with 50 diamonds—including eight which are rare blue diamonds. Additionally, the Ancort logo and the navigation key are made of 18k rose gold.
Built on the Windows CE, this most expensive cell also features a high-resolution color TFT display and a 256 bit cryptographic algorithm. This expensive mobile phone is capable of SMS, MMS, E-mail, Internet, WAP, JAVA support and also has a media player.
Maybe 1.3 million is breaking your budget? Here you go, luxuries for less.

Vertu Signature Cobra = $310,000
Vertu is now taking orders for the Signature Cobra, designed by French jeweler Boucheron, but you had better be quick as only 8 are being made! The Cobra will feature one pear-cut diamond, one round white diamond, two emerald eyes and 439 rubies. Vertu will also be offering a "cheaper" version, ruby free, at $115,000
$310,000 still too much?
Sony Ericsson Black Diamond = $300,000
Apparently the Black Diamond became available in 2007, not from Sony Ericsson but by a company called VIPN. Initially only 5 unique numered pieces were be available for the unbelievable price of, wait for it… $300,000.
With regards to the specifications, don't expect anything remarkable for your money. It will have Quad-band with Wi-Fi, an Intel 400Mhz processor running windows mobile 5, and a touch sensitive 2″ screen. It will also include internal memory of 128mb and will come with a 2Gb SD card for external storage, plus a respectable 4 Megapixel camera.
The designer Jaren Goh has used some pretty impressive materials for the build, featuring titane with polycarbonate, mirror-finish cladding and diamonds.
Can't see yourself spending 300,000 when your house hasn't been remodeled since last spring?
Kings Button iPhone 3G $250,000
Made for the money tycoons, nothing spells expensive and luxury other than the new Kings Button iPhone 3G. With a staggering estimated price of … *drum roll* $2.5 MILLION, this is one phone you don't want to drop in a toilet. Designed by the renowned Austrian designer Peter Aloisson, this iPhone is the ultimate techie bling bling with its diamonds and gold inlay. A whooping 6.6 carat diamond was used for the phone's main button and the luxurious casing is made up of combined 18 carat Rose Gold, White Gold and Yellow Gold. The edge of the iPhone was also lavishly adorned by 138 finely cut diamonds; even one of those is worth more than the phone itself. Although no special features were added to the phone itself, the phenomenal amount of money invested on the modification makes this phone say… one in a 2.5 million? Just carrying this million dollar phone is enough to send the message "I'm rich, you're poor." in a subtle yet flashy way. For those of us who can't afford that $2.5M for a mobile phone, we can always go for the regular iPhone 3G technologically adorned with 3G capabilities, Wi-Fi, touch screen and of course the signature apple logo.
Still a little pricey for your tastes in a cell phone?

Nokia 8800 Arte with pink diamonds $134,000
Designed by Peter Aloisson, this solid 18k white gold phone features over 680 pink and white brilliant cut diamonds totaling over 21.5 carats. Some of the phone's features are a 3.15 MP camera with autofocus and video, a music player, Bluetooth and voice memo.
Still too steep? Maybe this one is more in your price range:
Vertu Diamond = $88,000
The Diamond is Vertu's premium range of high-end mobile phones. As the name suggests the handsets in the Diamond range are diamond-encrusted handsets made from platinum. Only 200 of the handsets are being produced, the most expensive believed to be worth an estimated $100,000.
30k doesn't seem so bad now does it?
---
Personally I wouldnt spend more than 200 for a phone (And I beat myself up doing so) but some people need to show off the bling. I guess theres worse things you could spend your money on... if you have that much money.
If I had that much money I'd be buying clothes. Oh and lots of shoes. Just not these shoes!
Stuart Weitzman's Rita Hayworth Heels. Price tag: $3,000,000
Specs: Stuart Weitzman designed the satin open toe stilettos around a pair of earrings owned by movie legend Rita Hayworth.
The earrings are laden with rubies, sapphires and diamonds.
THE CINDERELLA SLIPPERS:
How much could a pair of shoes cost? Well, the world's 2nd most expensive pair of women's shoes costs a cool $2 million:
I'd rather have thousands of shoes!